Mineverse
SkyWars is finally back on Mineverse!

The original SkyWars we used to have is here and is back with a bunch of bug fixes and improvements including statistics, leaderboards, an improved scoreboard, better loot table, and other great additions.

It's going to be a bit different than how it used to be however, for anyone not aware, the SkyWars server, also known as SkyWars.com, was moved from Skyblock.net (our other network), to Mineverse, and then back. Though instead of doing the same, and instead of replicating an additional server specifically for Mineverse. We are going to basically 'share' the server with Skyblock.net. That means the server will be connectable from both Skyblock.net and Mineverse along with it's original domain of SkyWars.com. This is so we can focus on just one SkyWars server and work on making it the best one possible.

We have a bunch of unique ideas in mind that will be coming in the upcoming months, however, the server was designed to be just a very...

Happy November! This month, we're excited to announce a different kind of competition: For the first time ever, we are hosting a
Before we get into the details, congratulations to @Gabe for winning the October Pumpkin Carving competition! Please dm me for information on your prize.
​
For this month's competition, you will be completing a list of mini challenges:
​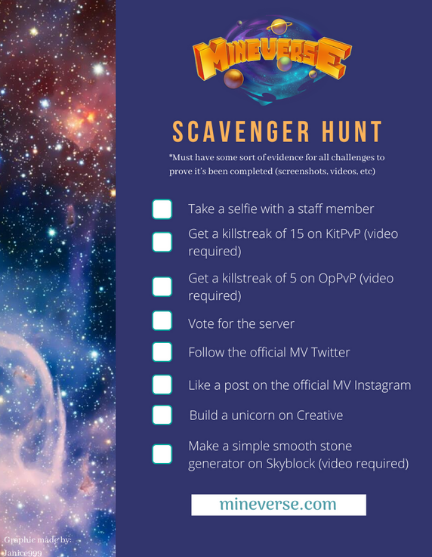 ​
Note*: You are allowed

1 free "pass"

on one of the challenges. However, if you decide to pass one, you will not be added in the lucky raffle (more info about that under "Prizes")

​
IGN:
Spoiler: insert all images/videos in the same order as...​

Here are the top voters for the month of October:
P4RI4H (Val0rum) - 61 votes
Acceptation - 61 votes
TiGeRzFtW - 61 votes
PerfectAlyssa - 60 votes
_Little_Kelly_ - 60 votes
Zaq - 60 votes
andrewdavid475 - 59 votes
slimpun - 59 votes
iizanoob - 59 votes
DeathAuras - 59 votes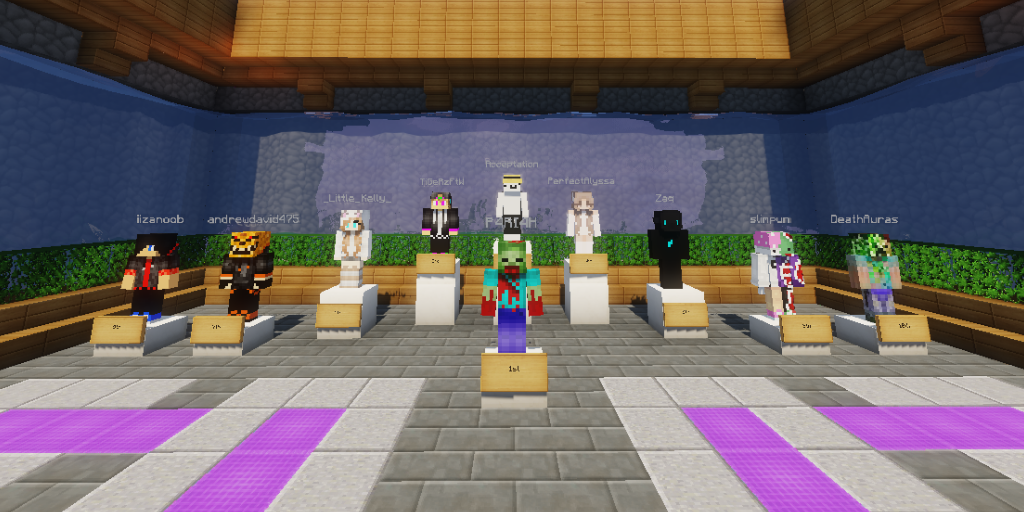 Congratulations to all of our gift card winners!
We appreciate all that have voted for your patience and for the continued support
<3
Vote now @
http://vote.mineverse.com
&
http://vote2.mineverse.com
*NEW VOTING SITE*
http://vote3.mineverse.com
Contact @Janice999 privately for your gift cards.
Please claim your gift card from me by the end of the month!
​